THESE CLASSIC TEARDROP TRAILER PLANS INCORPORATE DESIGN, MATERIALS, AND CONSTRUCTION METHODS USED DURING THE 1940S. THE TRAILER FEATURED IN THESE PLANS IS A 5-FOOT-WIDE DESIGN INTERPRETATION, HEAVILY INFLUENCED BY THE CLASSIC 4-FOOT-WIDE 1946-47 KEN-SKILL MODEL 10 TEARDROP TRAILER. MEASUREMENTS FOR THESE PLANS ORIGINATE FROM TRAILERS #483 AND #527, WHICH ARE ORIGINAL AT THE TIME OF THIS WRITING. ALTHOUGH THESE TRAILERS HAVE SOME ADDED WIRING OR ROOF VENT UPDATES, THEY ARE NOT REBUILT INTERPRETATIONS. SOME ORIGINAL MANUFACTURED PARTS WERE MEASURED FROM ONE REBUILT TRAILER, #234. ADDITIONALLY, SOME PARTS MEASURED AND DOCUMENTED WERE NOS (NEW OLD STOCK) PARTS SOURCED THROUGH INTERNET SEARCHES. MOST PARTS ARE METAL, AS THEY WERE ON THE ORIGINALS, AND FUNCTION EXACTLY AS THEY DID IN THE 1940S. THE MAIN GOAL IN CREATING THESE PLANS WAS TO MAINTAIN THE ORIGINAL DESIGN AND CAMPING FLAVOR FROM THAT TIME PERIOD. HOWEVER, SOME SPECIFIC FEATURES AND DETAILS WERE UPDATED TO CURRENT DESIGN AND SAFETY STANDARDS. SAFETY REGULATIONS, AS THEY RELATE TO EXTERIOR LIGHTING AND TRANSPORTING OF FUEL, WERE THE MAIN REQUIRED UPDATES. WATER SAFETY ISSUES ALSO REQUIRED MATERIAL CHANGES. ELECTRICAL OUTLETS WERE ADDED WITH ALL CONNECTIONS GROUNDED, CEILING AND ICEBOX INSULATION ARE UPDATED. MOST CHANGES ARE MECHANICAL OR HIDDEN TO THE UNTRAINED EYE. YOUR TRAILER SHOULD LOOK AND FEEL LIKE IT CAME RIGHT OUT OF THE MID-1940S.
LARRY SHANK'S JEEP AND TEARDROP TRAILER VIDEO BY PETROLICIOUS, SHOWS AN ORIGINAL KEN-SKILL MODEL 10 IN ACTION. THE VIDEO IS 8 MINUTES LONG AND ILLUSTRATES THIS JEEP AND TRAILER'S RICH HISTORY.
A LINK TO NICK'S WEBSITE. THIS PAGE SHOWS HIS MOSTLY ORIGINAL KEN-SKILL MODEL 10. THE PHOTOS PAGE SHOWS SEVERAL OTHER TEARDROP TRAILER BRANDS FROM THE 1940S AND 1950S. VERY COOL!
MOST ORIGINAL TRAILER 1 X 2 "C" CHANNEL STEEL FRAMES HAVE BEEN REINFORCED. OUR TRAILER PLANS USE 1.5 X 2 RECTANGULAR STEEL TUBING CNC BENT TO THE SAME INNER RADIUS AS THE ORIGINALS. FOR STRUCTURAL RIGIDITY A TONGUE COUPLER TUBE HAS ALSO BEEN ADDED. CROSSMEMBERS AND MOUNTING COMPONENTS CONCEPTUALLY REMAIN THE SAME.
ORIGINAL TRAILERS HAD TWO TYPES OF SUSPENSION. ONE WAS A COIL SPRING SYSTEM AND THE OTHER WAS A LEAF SPRING DESIGN. THE COIL SPRING SYSTEM WHICH IS NO LONGER MANUFACTURED, INCORPORATED AN INDEPENDENT WHEEL SUSPENSION SYSTEM, HAD GREATER CLEARANCE UNDERNEATH, AND THEORETICALLY WOULD PROVIDE A SMOOTHER RIDE. THE LEAF SPRING WITH SOLID AXLE DESIGN SHOWN IN THESE PLANS PROVIDE LESS GROUND CLEARANCE, BUT REMAINS A MORE ROBUST AND EASILY SERVICED OPTION.
THE 1947-1953 CHEVY PICKUP WHEELS CAN STILL BE FOUND USING INTERNET SEARCHES AT THE TIME OF THIS WRITING. THEY CAN BE SANDBLASTED, DENTS REPAIRED IF NEEDED, HUBCAP CLIPS REPLACED, AND REPAINTED OR POWDER COATED. IF YOU PREFER SIMILAR WHEELS MADE TO ORDER, THERE ARE SPECIALTY MANUFACTURERS THAT SERVICE THE RESTORATION AND HOT ROD MARKETS.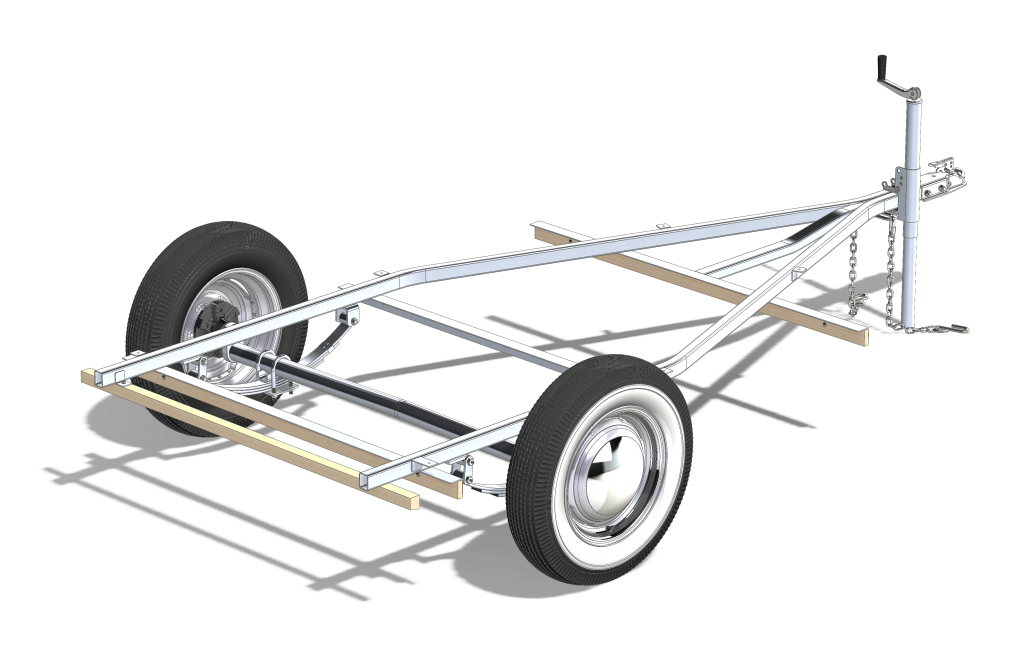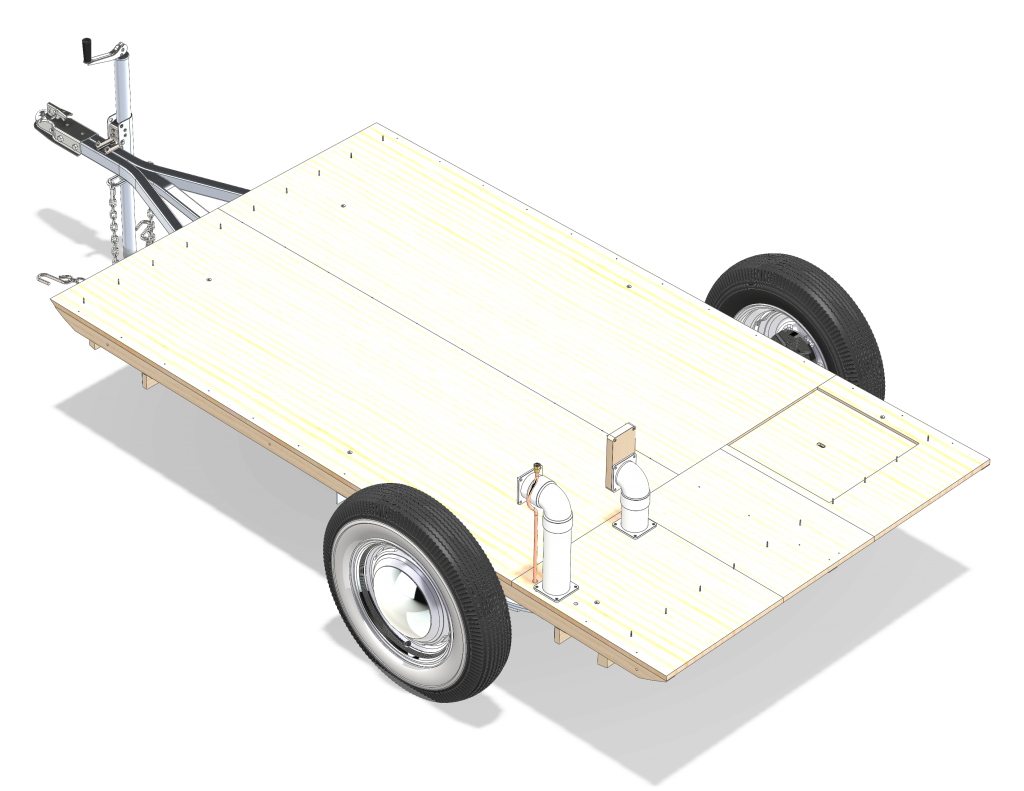 TEARDROP TRAILERS IN THIS ERA USED DOUGLAS FIR PLYWOOD, WHICH CAN BE DIFFICULT TO SOURCE. BIG CHAIN RETAIL OUTLETS DO NOT TYPICALLY HAVE THIS QUALITY OF PLYWOOD READILY AVAILABLE. CABINET SUPPLY VENDORS TYPICALLY STOCK MARINE GRADE DOUGLAS FIR AND BALTIC PLYWOODS WHICH ARE GOOD ALTERNATIVES. PLYWOOD SPECS ARE CALLED OUT ON THE DRAWINGS, AND YOU MAY NEED TO DO AN INTERNET SEARCH. QUALITY PLYWOOD THAT IS MANUFACTURED USING WATERPROOF ADHESIVES IS HIGHLY RECOMMENDED. ADDITIONALLY, 4' X 10' OR 5' X 10' PLYWOOD IS VERY DIFFICULT TO SOURCE, SO SUGGESTED SPLIT LINE LOCATIONS ARE SHOWN AND DIMENSIONED IN THE PLANS FOR A SPLINE & GLUE OPERATION TO CREATE THE SIZES NEEDED.
ORIGINALLY 1 X 2'S WERE USED FOR FLOOR STRUCTURAL SUPPORTS. FOR ADDITIONAL STRUCTURAL RIGIDITY THESE ARE UPGRADED TO USE 2 X 2'S IN THE PLANS.
THE TYPE L LPG FLEXIBLE COPPER TUBE ASSEMBLY IS FULLY ACCESSIBLE FOR SERVICE AND THE OPTIONAL HVAC DUCTS ARE DESIGNED TO CONNECT UP TO A COMPACT PORTABLE OUTDOOR AIR CONDITIONER AND HEATER UNIT.
ALL WIRING IS COPPER STRANDED, DESIGNED TO BE GROUPED INTO WIRING HARNESSES AND USE WIRE TERMINALS/CONNECTORS, WITH ALL CIRCUITS BEING GROUNDED. WIRING HARNESSES INCLUDE OPTIONAL CONNECTIONS TO A 3RD BRAKE LIGHT, A ROOF VENT FAN, OR LIGHT.
THESE PLANS SHOW A MODERN ATC FUSE PANEL, WHICH IS COMMONLY USED IN THE RV/MARINE/AUTOMOTIVE INDUSTRIES TODAY. AGC GLASS FUSES CAN BE DIFFICULT TO SERVICE WITHOUT A TOOL AND ARE NOT AS READILY AVAILABLE TODAY. THE TERMINAL BLOCK IS TYPICAL OF THOSE USED IN THAT TIME PERIOD.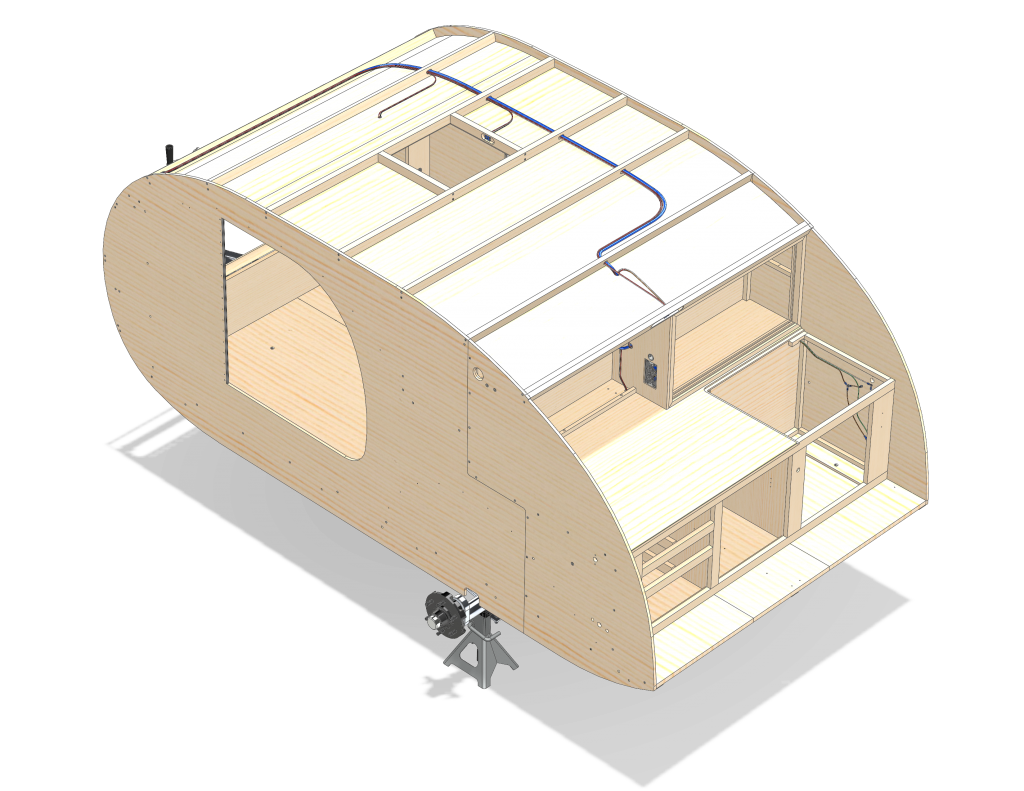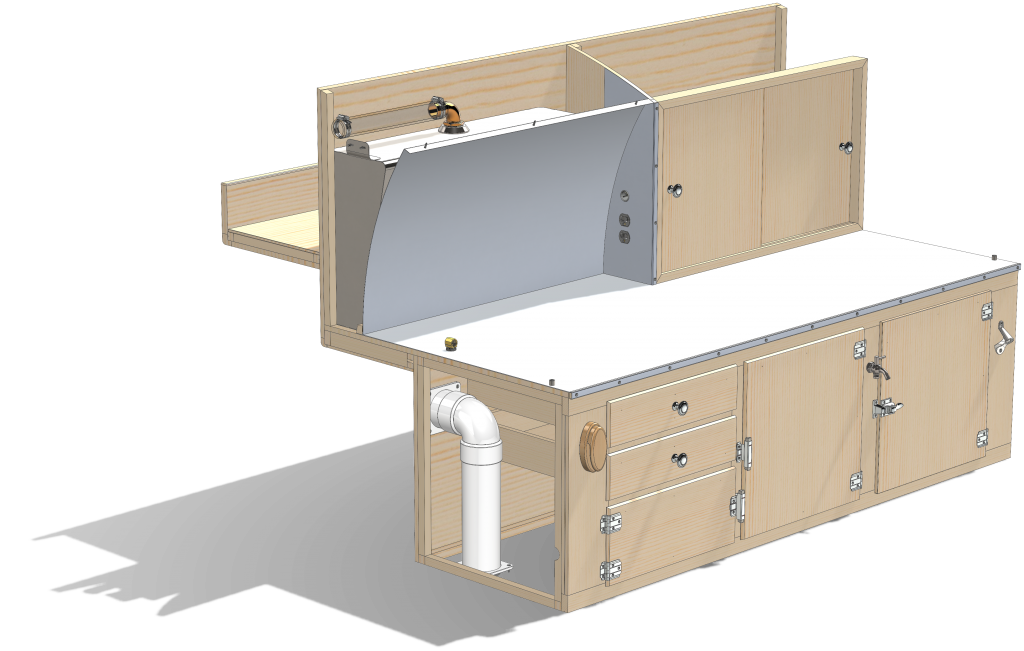 DIMENSIONALLY, THE KITCHENETTE CABINETS ARE ALMOST IDENTICAL TO THE ORIGINALS, EXCEPT FOR WIDTH. THERE ARE SUBTLE DIFFERENCES DUE TO THE ADDED 12.0" TRAILER WIDTH. THE FASCIA, DOORS, DRAWERS, UPPER CUPBOARD ASSEMBLY, AND WATER TANK & SHIELD ASSEMBLIES ARE WIDER. ADDITIONALLY, THE EXTRA WIDTH ALLOWS FOR SERVICE ACCESSIBILITY TO THE WIRING OR PLUMBING AND THE UNOBTRUSIVE INSTALLATION OF AN HVAC SYSTEM DESIGNED SPECIFICALLY FOR THIS TRAILER.
ORIGINAL WATER TANKS WERE CONSTRUCTED USING GALVANIZED STEEL WITH SOLDERED JOINTS, WHICH WAS A COMMON CONSTRUCTION METHOD AT THAT TIME. GALVANIZED IRON PIPE FITTINGS WERE USED TO CONNECT THE WATER INLET TO THE WATER TANK. FOR SAFETY, THESE PLANS SPECIFY A STAINLESS STEEL WELDED TANK, WITH NSF APPROVED MATERIALS FOR  ALL OF THE PLUMBING, FITTINGS, AND FIXTURES. THE WATER TANK AND PLUMBING ARE ALSO  ACCESSIBLE FOR SERVICE OR CLEANING.
THE ORIGINAL WATER SPIGOT/TAP WAS A NICKEL PLATED, CAST BRASS BENT NOSE WATER DRAIN TAP. FOR WATER QUALITY SAFETY REASONS, WE SPECIFY USING A STAINLESS STEEL SAMPLING COCK.
DIFFERENT ICEBOX LATCH DESIGNS WERE USED BASED UPON AVAILABILITY. MANY TRAILERS USED THE SAME PINCH LATCH & STRIKE DESIGN USED ON THE OTHER CABINET DOORS. THESE PLANS USE A DESIGN WHICH MIMICS AN ICEBOX LATCH DESIGN USED ON NICK TAYLOR'S TRAILER, #483.
ORIGINAL TRAILER CLOSET AND KITCHENETTE CABINETS DID NOT HAVE ANY ELECTRICAL OUTLETS. OWNERS HAVE INSTALLED OUTLETS AS NEEDED. 12 & 120 VOLT OUTLETS HAVE BEEN DESIGNED INTO THESE PLANS TO ALLOW FOR USE OF TODAY'S ELECTRICAL ACCESSORIES.
PINCH LATCH & STRIKE AND HINGE CABINET HARDWARE DESIGNS USED ON THE DOORS CAN STILL BE SOURCED AS NOS ON THE INTERNET. THERE ARE GOOD SOURCES FOR SIMILAR VINTAGE CABINET HARDWARE DESIGNS MANUFACTURED TODAY AS WELL.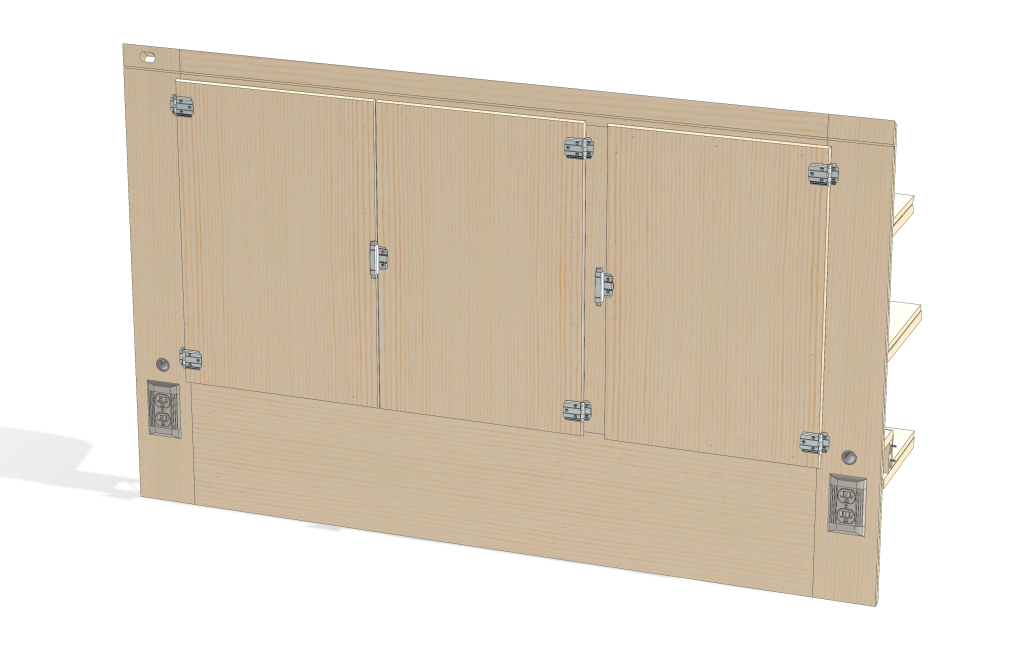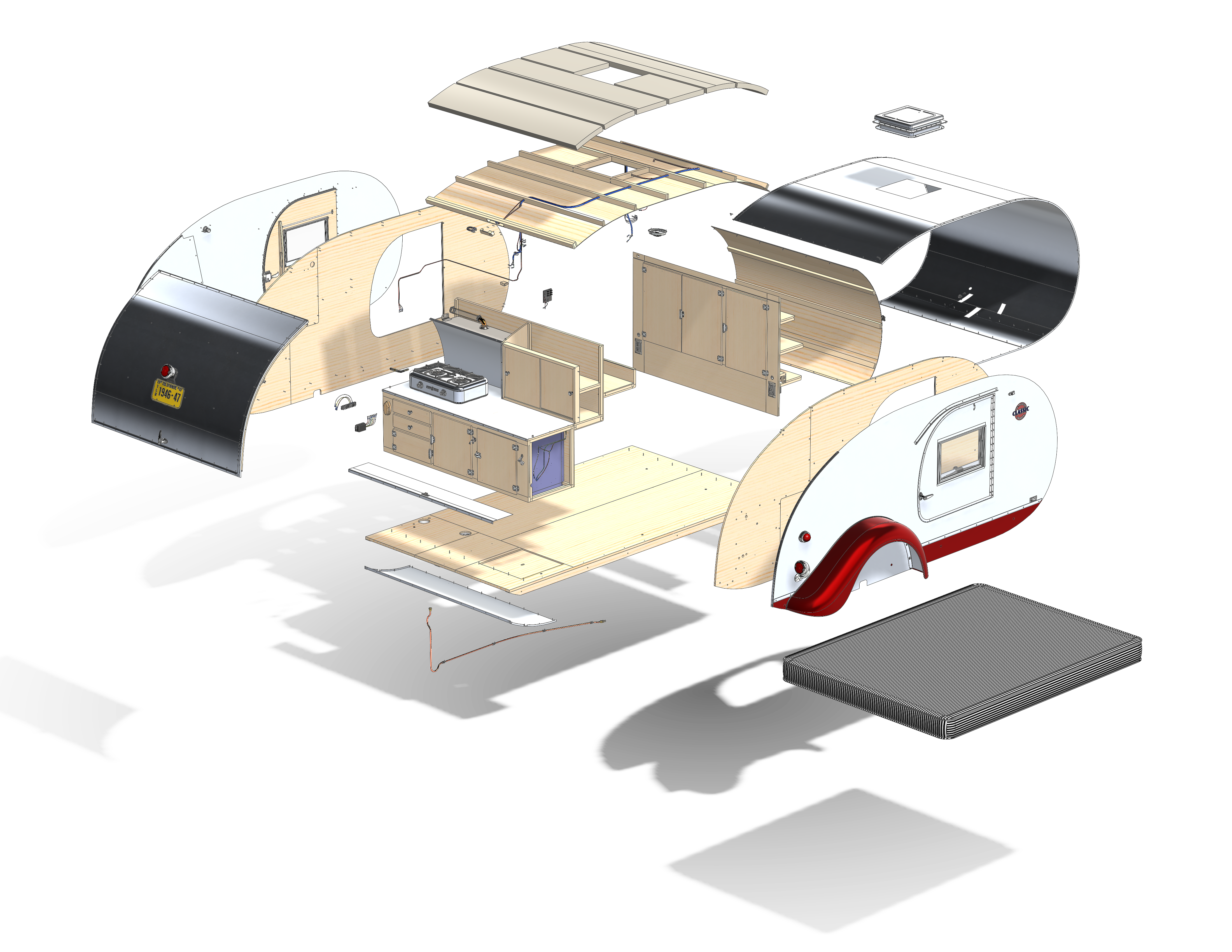 ALUMINUM EXTRUSIONS SHOWN IN THE PLANS ARE AS MEASURED ON UNRESTORED TRAILERS. TWO DIFFERENT SIDE TRIM DESIGNS WERE USED. THESE PLANS SHOW THE HALF ELLIPTICAL PROFILE, WHICH REQUIRES MORE EFFORT TO FABRICATE AND INSTALL, BUT HAS A SOFTER, AND MORE INTEGRATED DESIGN AESTHETICALLY.
SOLID RIVETS WERE TYPICALLY USED IN THIS TIME PERIOD ON MANY TRAILERS AND ARE VERY NICE AESTHETICALLY. THEY'RE STILL BEING USED IN AIRCRAFT, SEMI TRUCK CABS & TRAILERS, AND VINTAGE TRAILER MANUFACTURING. RIVET GUN AND BUCKING BAR TOOLS ARE NOT TYPICALLY FOUND IN A HOMEOWNERS' SHOP. THIS CONSTRUCTION METHOD MAY REQUIRE AN ADDED TOOL PURCHASE AND A SMALL LEARNING CURVE.
ORIGINAL TRAILER SCREWS ARE SLOTTED. THESE PLANS SPECIFY THEIR USE STRICTLY TO PRESERVE THE ORIGINAL DESIGN FLAVOR AND AESTHETICS OF THE 1940S. ALTHOUGH THEY CAN BE DIFFICULT TO MASTER, WE SUGGEST THAT YOU INSTALL THESE TYPES OF SCREWS.
ORIGINAL TRAILERS USED 0.032" THICK ALUMINUM. FOR ADDITIONAL STRENGTH, OUR PLANS USE 0.040" THICK ALUMINUM ON THE ROOF AND GALLEY LID. THE FRONT BOTTOM SKIRT IS AN ADDED PART, FOR ADDED PROTECTION, AERODYNAMICS, AND AESTHETICS.
MANY TRAILERS HAD A HORIZONTAL PROPANE TANK MOUNTED DIRECTLY ONTO THE FRAME AT THE FRONT OF THE TRAILER. THESE PLANS PLACE THE PROPANE TANK IN A FRONT STORAGE UNIT, WHICH PROTECTS THE VALVES AND REGULATOR FROM THE ELEMENTS. THE TANK IS SECURED WITH AN UNDER CENTER DRAW LATCH & STRAP SYSTEM FOR EASIER REMOVAL/REINSTALLATION DURING SERVICE OR REFUELING.
ORIGINAL TRAILER OWNERS USED THEIR CAR BATTERY TO INSTALL A WIRING HOOKUP TO RUN 12V LIGHTING AND ACCESSORIES WHILE CAMPING. SOME HAVE INSTALLED A 12V MARINE BATTERY ONTO THE CLOSET LOWER SHELF FLOOR, OR AN AUTO BATTERY ON THE CENTER KITCHENETTE CABINET FLOOR. THESE PLANS PLACE A BATTERY IN THE FRONT STORAGE UNIT, WHERE IT CAN BE EASILY SERVICED AND CHARGED DIRECTLY USING A GENERATOR OR SHORE LINE POWER SOURCE.
OWNERS TYPICALLY RETROFITTED A POWER CONVERTER INTO THE KITCHENETTE CABINETS. THESE PLANS PLACE A POWER CONVERTER IN THE FRONT STORAGE UNIT.